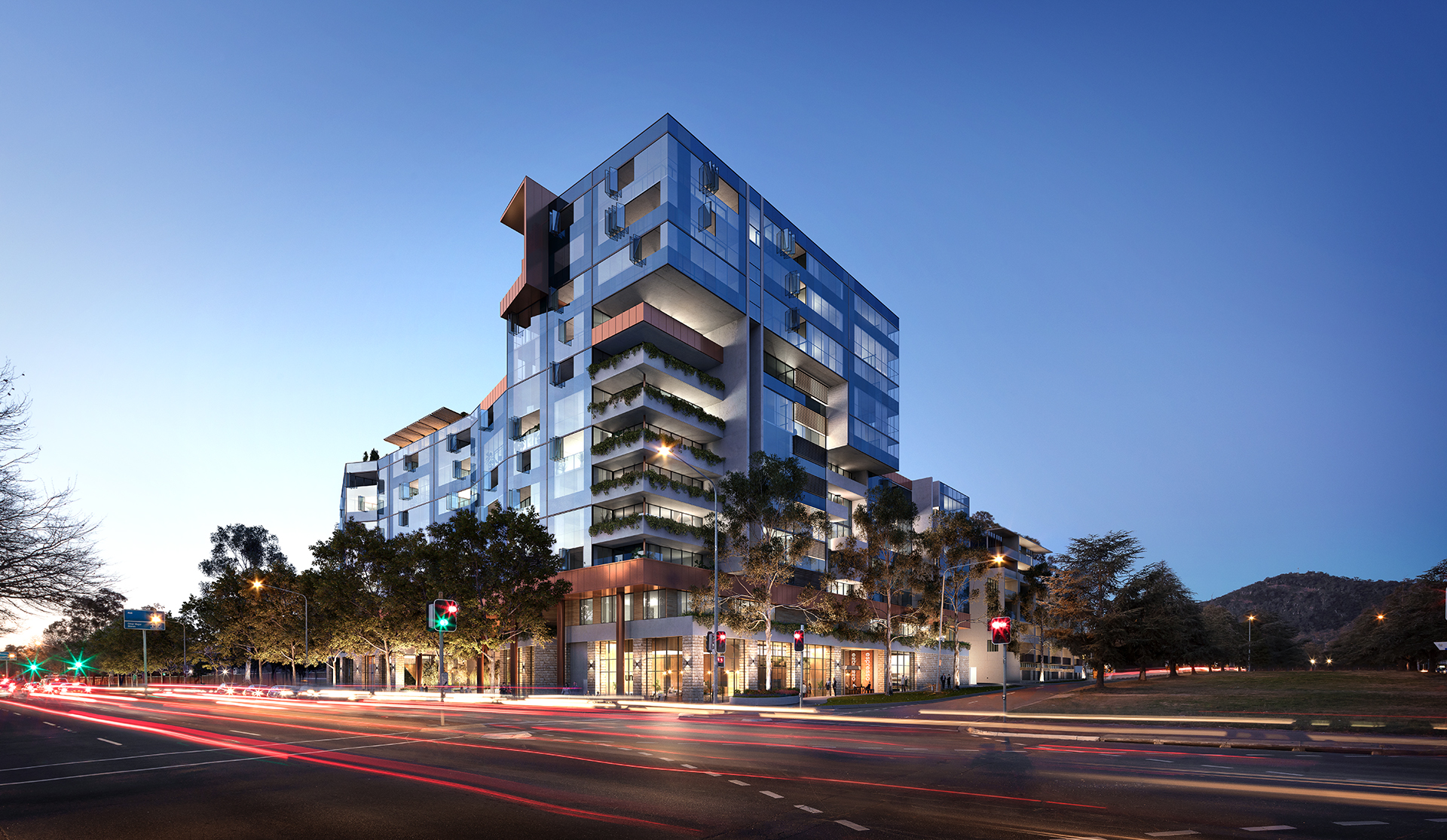 JWLand, developer of premium apartment brand Campbell 5, has revealed the details of its new project – Founders Lane.
Situated between the Canberra Centre and iconic Gorman House, Founders Lane is the landmark new development project that's set to transform the city's fringe into a vibrant, new urban precinct.
"We are pleased to be able to play a part in the revitalisation of Canberra's city centre," said Michael Prendergast, Head of Development for JWLand in the ACT.
"Founders Lane will be a welcoming place with a lively, village atmosphere.

"We've designed the precinct to encourage a renewed pride of place in this part of the city through the incorporation of dynamic public places, community facilities, residential amenity and open green spaces.

"We want future residents and the Canberra community to feel a strong sense of ownership and belonging in Founders Lane," he said.
[pexnivoslider pex_attr_sliderid="26″][/pexnivoslider]
The name of the precinct draws inspiration from the history of the suburb and pays homage to Canberra's founders, past and present.
"Given the significance of the location, we really wanted to make Founders Lane a celebration of Canberra," said Kate Hulm, Head of Marketing and Public Relations for JWLand.
"Everyone in the project planning team is from Canberra and knows the area well, so we've brought that local knowledge and experience to the project to create something we're confident will provide lasting value to the Canberra community.
"We're collaborating with local business owners, artists and community groups to bring our vision of an active urban village to life," she said.
The Founders Lane precinct will deliver a new childcare centre with architecturally designed indoor and outdoor play areas, public green spaces and an eclectic mix of cafes, restaurants and boutique retail stores.
As part of the project, JWLand is investing significant resources to upgrade public paths and revitalise the public landscaping along Cooyong Street, including planting new mature trees, shrubs, hedges and grasses.
The transformation will also provide greater connectivity between the City and Braddon and improved access to public transport through the delivery of a new pedestrian green link from Cooyong Street to Currong Street.
Founders Lane will deliver over 700 new homes across four buildings. The buildings will be released in four stages with the entire precinct expected to be completed in 2020.

A range of sustainability features have been incorporated in the design including rooftop solar panels, rainwater capture, storage and recycling systems, electric car charging bays and enclosable winter-gardens
with double glazing.
Stage 1 includes a residents' rooftop BBQ area with panoramic views of the City, and a north-facing communal garden where residents can grow their own herbs and vegetables.
Construction on Stage 1 has commenced and is expected to be completed in late 2019. Marketing for the first stage of release will commence in October 2017. Expressions of interest are now being accepted.